Follow Me! - StaySafeJam
A downloadable game for Windows
Entry for the #StaySafeJam - Theme: "Solidarity"
Made by @Andi_Dev and @DekeDev in 48 hours

Start the longest human chain in the world and save the others from a zombie-infested city!
This is an "inofficial" entry to the Jam due to one team member being part of the jury, so our game will not be ranked and will not be eligible for any prices!

Due to the nature of being a jam entry, expect some general weirdness! We might work on an updated and more polished version if time allows!

Controls:
Keyboard:
E - Take hand
Space - Let go
ESC - Menu

Controller (XBox):
A - Take hand
Y - Let go
Back - Menu
Credits:
Andreas Suika (https://twitter.com/AndiDev_) - Programming, VFX
Dennis Kröner (https://twitter.com/AGrumpyFox) - Modelling, Level Design

POLYGON Asset Pack by Synty - https://syntystore.com/
"Funked Up" by Joth - https://opengameart.org/users/joth
Mixamo by Adobe - https://www.mixamo.com/

Used tools:
Unreal Engine 4.25.0 Preview 4
Blender 2.80/2.82
Adobe Photoshop
Krita
Audacity


Comments
Log in with itch.io to leave a comment.
65 is my personal record.
No hacks, no cheats, pure strategy.
whatever higher than 65 is impossibru!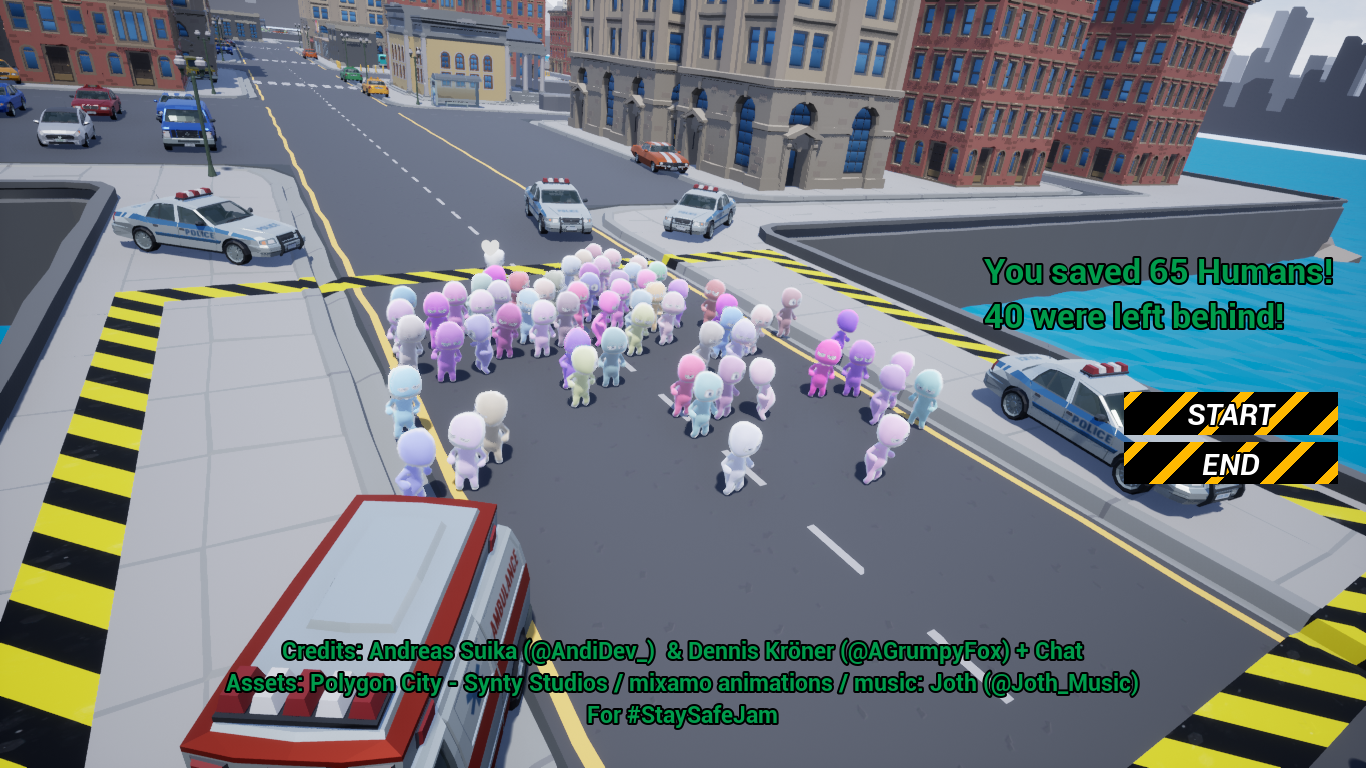 Awesome game! We featured it in our latest video! You can check it out here if you're interested!
A nice little game with good graphics and funny gameplay.
Thank you! The houses are from an asset pack but the character is made by us. We had some additional mechanic but we removed it for this release as it was not polished and tested enough. Maybe we will do an update.
Its a very well made little game!
Edit: It has controller support!!!!
After losing my enormously long human chain, i could not stop playing.
That's very funny, considering I found the game half asleep on my mobile through youtube and thought i could give it a try.
Now i' m sitting here at three o'clock in the morning writing a comment....
Highscore: 46
Awww! Thanks! And thanks for noticing the controller support. We were not really mentioning it, because our menu ist not working with it. I run out of time and we had to cut some corners to finish in time. Did you know you can hold hands with the zombies? Oh and there is a small counting bug unfortunately. I fixed it but we love the game so much, that we think of cleaning it up and finishing some things we started but didn't put in the game (like healing zombies)
Its a very cute litte game filled with a lot of love and even more zombies if you mess up. The developers kept it simple and fun and disregarding a few minor bugs it runs extremely smoothly. Imagine this being the outcome of a 48h Game Jam! Love towards Dekay and Andi and thanks a lot for making this cute little game!